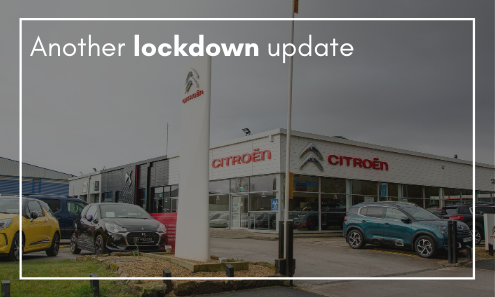 Another lockdown update
As we all find ourselves headed in to another national lockdown, we would like to take the opportunity to update you on how we will be operating through the coming weeks:
SALES
Our online showroom remains open whilst the dealership is closed. You can browse and reserve your desired vehicle all from the comfort of your home. If you'd like to view our used vehicle showroom, click here. You can also speak to an available Sales Executive via the LIVE CHAT option that appears on this page.
SERVICING & PARTS
Our workshop will remain open for essential vehicle maintenance. We are unable to let customers into the showroom so all appointments are on a drop off and collect basis with no waiting. We feel this is crucial to help protect our team and our customers. If you would like to book an appointment, you can contact us here.
Ella Telford-Hay, General Manager said, "In order to play our part in helping control the virus, we have tightened up our measures across the site. While we all get through another lockdown, I really appreciate the support and understanding we have been shown. I hope you all stay safe and I hope to see you back in the dealership again soon."
Latest News
18-08-2021
Like most other dealerships, Telford's are looking forward to the new 71…
Read more >
11-08-2021
Telford Automobiles is Cumbria's only dedicated Citroen dealership…
Read more >
16-07-2021
To highlight the achievements DS Automobiles have accomplished with Formula-E…
Read more >